When is Black Friday 2022?
Black Friday for the year 2022 is celebrated/ observed on Friday, November 25th.
Estée Lauder Black Friday 2022
Estee Lauder offers Black Friday Preview: 30% Off Any Order vai code FRIDAY22
Plus, Limited Edition Skincare Set: Stellar Skincare! Includes Advanced Night Repair Serum and more! $39.50 with purchase, a $174 Value. Visit esteelauder.com for details. Free Shipping. Offer valid while supplies last.
Plus, Choose a free sample with every $25 you spend.
Free shipping.
Deal ends 11/24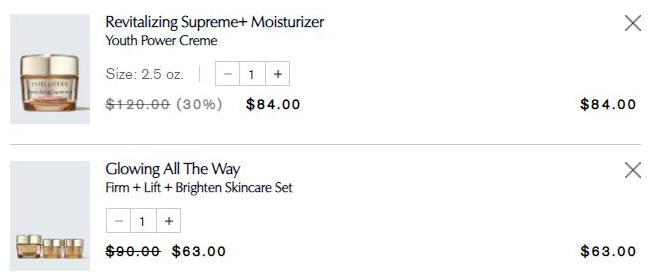 Last Year's Black Friday Ad
2021 Ad
Get 30% off with promo code FRIDAY21 SHOP NOW ►
On top of that, you'll be able to purchase their "29 Beauty Essentials" set for $75 as long as you make any other purchase of $45 or more (the set is valued at $550!). Limit one per customer. Offer ends at 11:59PM PST on Friday November 26, 2021.
---
Black Friday Start & End Times
Last year the Estee Lauder Ad scan was released in the middle of the month of November 2020. This year too, the Black Friday 2020 Sale ad scan for Estee Lauder will be released in the 2nd week of November 2020 as per the past year's trends.
---
What's Typically Excluded?
We can expect huge discount on various categories in Estee Lauder. Estee Lauder is gonna make huge offers and sale on various products. However, here's a look at some of the typical exclusions, offer limitations and other things you should know before shopping Estée Lauder's Black Friday sale:
The sale is usually limited to purchases made on their website to U.S. based customers only.
Quantities are limited and everything is available while supplies last (no rain checks).
Some products will be excluded from the sale (will be noted on their website). Other typical exclusions are gift card purchases, shipping fees and taxes.
But the ongoing COVID-19 pandemic cause Estée Lauder to change their Black Friday sale this year, We still don't know but we'll be posting all the important updates here are we get them.
---
History
Are you interested in seeing some of Estée Lauder' older Black Friday ads? Then follow the links below to view the last few years of ad history.
2020 Ad
Estée Lauder Black Friday 2020 officially started at November 27, You will see a huge deals update here;
Click: www.esteelauder.com
Black Friday 30% Off! Spend $200, get a free large-size Micro Essence. Spend $250, get a free full-size Advanced Night Repair Eye Supercharged Complex. Plus, limited time offers all day. Use Code: FRIDAY2020. Valid thru 11/27/20, 11:59pm EST
the Estee Lauder Coffret Blockbuster for $75 ($455 value) with $45 purchase roundup.
some Sets & Gifts up to 30% off.
2020: page 1
2018: page 1 page 2 page 3 page 4 page 5
2017: page 1 page 2 page 3 page 4 page 5 page 6
2016: page 1 page 2 page 3 page 4
2015: page 1 page 2 page 3 page 4
2014: page 1 page 2 page 3 page 4 page 5
---
More about Estée Lauder
Estee Lauder Companies Inc. manufactures and markets skin care, makeup, fragrance and hair care products. They are the global leader in prestige beauty — delighting consumers with transformative products and experiences, inspiring them to express their individual beauty. Based in Midtown Manhattan, New York City. The company owns a diverse portfolio of brands, distributed internationally through both digital commerce and retail channels.