When is Black Friday 2022?
Black Friday for the year 2022 is celebrated/ observed on Friday, November 25th.
AHAVA Black Friday 2022
Black Friday is the day after Thanksgiving Day in the United States. This day often falls on the fourth Friday in November each year. The day is one of the busiest shopping days of the year with shoppers getting gifts for the December Holidays the following month.
The term Black Friday comes from when retailers go from being in the red (at a loss) in their business for the year to going into the black (profitable), thus showing how important the end of the year holidays shopping season is to most retailers.

Last Year's AHAVA

Black Friday
2021 Ad
shop ahava.com with promo code AHAVA35 to get 35% off nearly everything site-wide (a few exclusions will apply)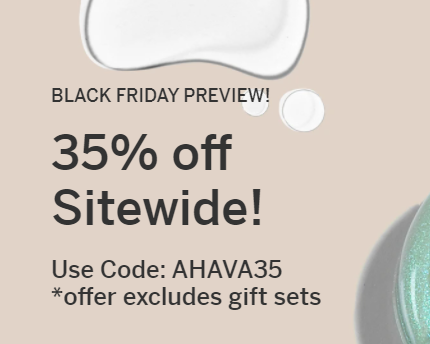 ---
History
Are you interested in seeing some of AHAVA' older Black Friday ads? Then follow the links below to view the last few years of ad history.
2021 ads page 1
2018 ads page 1
2017 ads page 1
2016 ads page 1
2015 ads page 1
2014 ads page 1
---
More about AHAVA
Ahava (Hebrew for love) is an Israeli cosmetics company that manufactures skincare products which are made from dead sea mud and minerals.It all started with a team dedicated to studying, protecting, and celebrating the wonders of nature.