Hello beauties! The countdown to Christmas is always exciting, but beauty advent calendars make each morning all the more special. The Essence DIY Advent Calendar is back for 2020! Last year, Essence launched a DIY Advent Calendar and it was obviously a big success for the brand, as they've brought it back for 2020.
Price:
£19.99
Official Release Date:
Available now at Feel Unique
Brand Description:
This cute hang up advent calendar have makeup and skincare. Like the year before it features a host of skincare classics. The countdown has everything from mascara to nail stickers to put together a fun DIY calendar for someone special. It was super stunning and absolsutely stuffed with goodies.
MY RATING: 5 /5
CONTENTS
Lash On Lash Off Volumizing Magnetic Accent Lashes – 01 Turn Up The Volume!
Short Blender Brush
Instant Volume Boost Mascara Smudge-Proof And Intense Black
Follow Your Heart Eyeshadow Palette
Superlast Eyeliner Matt Black
Style Your Wing! Cut Out Eyeliner Tool
Prime + Studio HD Hydra Primer Spray
Pure Nude Sunlighter – Be My Sunlight
Time To Wake Up Face Sheet Mask – Wake Up Stand Up
Essence Matt Touch Blush – Peach Me Up!
Plumping Nudes Lipgloss – Bold Love
My Beauty Lip Ritual Step 1 Peeling 01 Peel It!
My Beauty Lip Ritual Step 2 Mask 02 Patch It!
My Beauty Lip Ritual Step 3 Primer 03 Prime It!
Draw The Line! Instant Colour Lipliner – So Un-Grey-Tful
Matt Matt Matt Lipgloss 02 Beauty-Approved!
Colour Up! Shine On! Lipstick 08 Flaming Red
Crystal Wet Look Lipgloss 01 Bright Diamond
Studio Nails Rosewood Sticks
Glitter On Glitter Off Peel Off Nail Polish 01 Put A Ring On It
Glitter On Glitter Off Peel Off Nail Polish 03 Party Queen
Sapphire File
Glow In The Dark Top Coat 36 Girl On The Moon
Bracelet Nail Stickers 10 Bracelet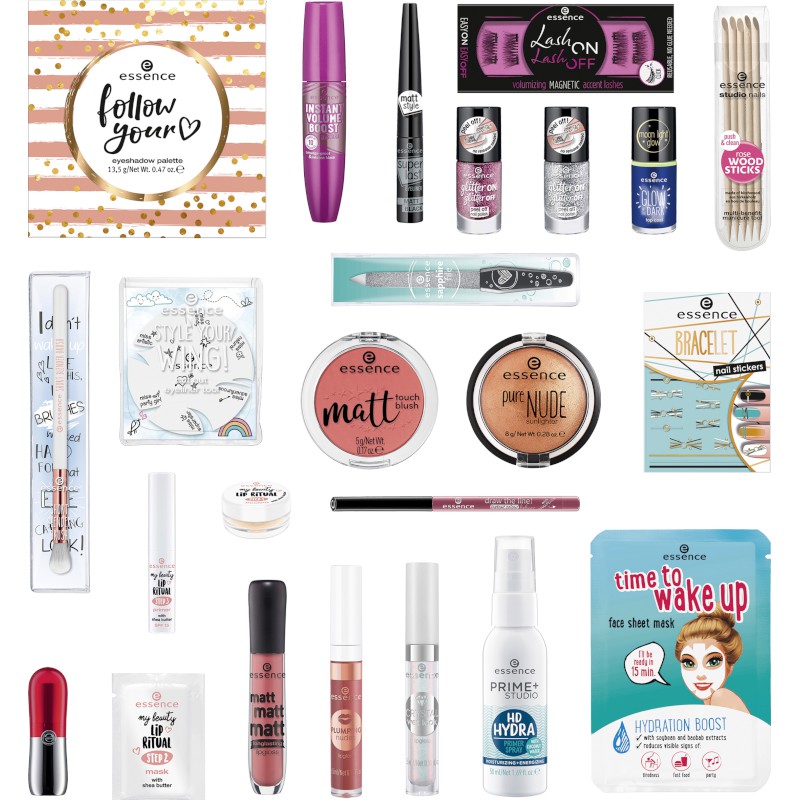 TIPS:
Check out our list of beauty ADVENT CALENDAR releases, and be sure to check back as many more are announced. To help guide you to find the 'best beauty advent calendar of 2020', we've rounded up every single beauty advent calendar for 2020 – Watch this space for more details and in the mean time check out the best beauty advent calendars to snap up this Christmas. and if a brand is yet to share any details, we've predicted their offering based off last year. From the products included inside (think, lipstick, perfume, eyeshadow and so much more, to the on-sale dates.